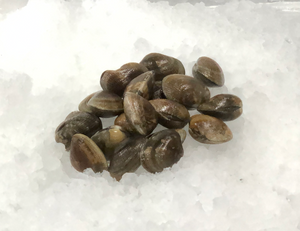 Manila clams are the smallest clams on offer in the Admaiora Seafood online store. Manila clams are tasty and known for their meaty, firm texture. Manila clams have a sweeter taste than other clams. Prepared in pasta and soups, Manila clams can also be baked, sautéed, and steamed, making them a versatile clam.
Note: This product is alive. Manila Clams come individually or in a 200 count bag. 
IF ALLERGIC TO SHELLFISH DO NOT CONSUME THIS PRODUCT
Fun Fact: Manila clams can live to be 10 years old!