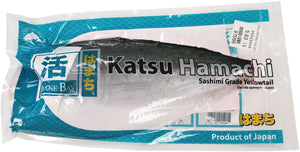 The Japanese amberjack known as the hamachi is a staple of any sushi restaurant. Try this fish thinly sliced with an acid vinaigrette that will have you wishing you ordered more. The meat of the hamachi is firm and mild-flavored with a buttery and smooth texture. 
Note: This item is frozen. This product is sold in 4.5-5.5 lbs fillets. 1 lb will approximately feed 2 people.
Fun Fact: The Hamachi is only called hamachi if it is the correct age and size any bigger or smaller will result in the fish not being called hamachi.