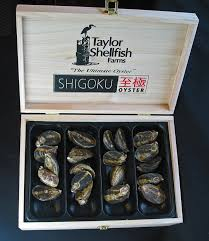 Shigokus are Pacific oysters grown in bags that are attached to floats that go up and down in the tides. Every time the oysters get agitated, they use their muscles to close their shells and the result is an oyster with wonderfully firm flesh and a deep cup.
Note: Shigoku Oysters are sold as a 60 count Box.
IF ALLERGIC TO SHELLFISH DO NOT CONSUME THIS PRODUCT.
Fun Fact: Shigoku oysters are only farmed in the Pacific USA.