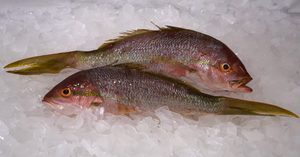 The yellowtail snapper is an abundant species of snapper native to the western Atlantic Ocean including the Gulf of Mexico and the Caribbean Sea. The yellowtail snapper meat is highly revered amongst South Floridians as it has a mild flavor and firm texture. 
Note: Yellowtail snapper is sold whole or fillet cut. 1 lb will approximately feed 2 people.
Fun Fact: Adult yellowtail snappers are nocturnal hunters.