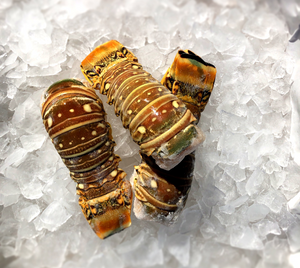 Florida lobster native to the warm waters of Florida has very flavorful and pairs well with all different kinds of seasoning and sauces. Unlike Maine Lobsters the Florida lobster has no claws, this is why all the meat of this lobster is in its tail. Lobster tails are a great way to bring the family together to have a fun lobster night.
Note: Lobster tails are sold in 6, 7, and 8 oz individual tails. 8 oz is equal to 1/2 lbs.
IF ALLERGIC TO SHELLFISH DO NOT CONSUME THIS PRODUCT.
Fun Fact: Florida lobsters or Spiny lobsters are nocturnal meaning they scavenge for food during the night.